Tracks UX 2019 Los Angeles
We are THRILLED that California Science Center in Los Angeles will be hosting the Tracks User Conference February 18 and 19, 2019.
This conference is our annual gathering of Tracks users and is a great time to see what's new, what's coming up, and discover ways to make the most of using Tracks at your zoo or aquarium. 
Conference sessions are all day Monday and Tuesday. Continental breakfast, lunch and dinner on Monday, and continental breakfast and lunch on Tuesday are provided.
Sunday evening: Informal, non-sponsored event at Free Play, near the California Science Center. We'll plan to be there at 6 p.m. - come join us if you want!
Conference sessions are in the Muses Room at the Wallis Annenberg building - NOT in the official Science Center building. The Wallis Annenberg building is to the northeast of the Science Center. It's east of the Exposition Park rose garden and fountain.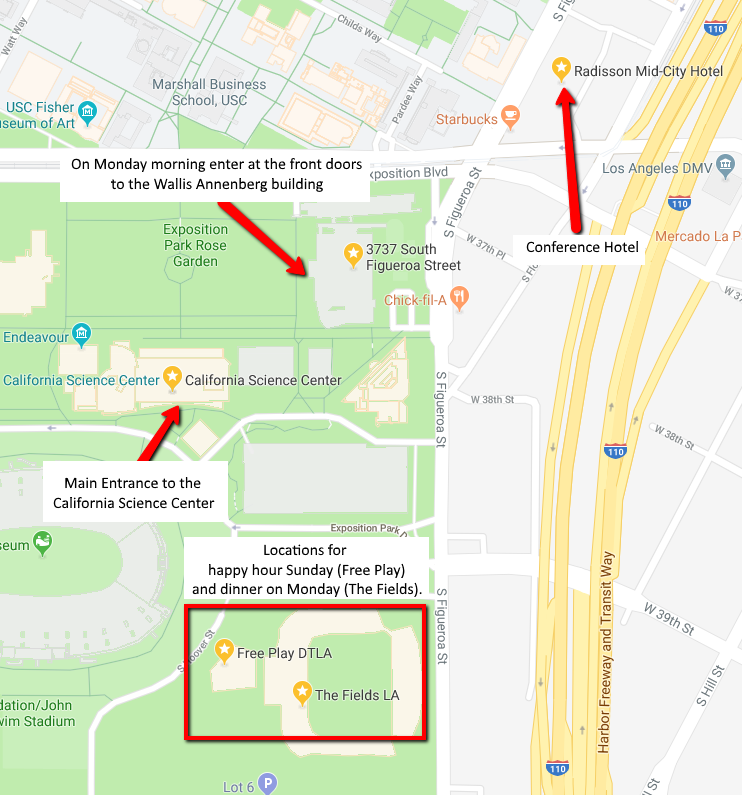 Sessions will start at 8:30 a.m. Monday and Tuesday; light breakfast will be available at 8 a.m.
Monday's dinner is at 
The Fields
. We'll head over there after the sessions are over for the day…about 5:30.
MONDAY 8:30 - 5:00
Morning Sessions
Welfare, Observations and general Record Keeping
Lunch 12:00  - 1:00
Afternoon Sessions
All things medical: Vet Journal, Mortality, Lab Data, Prescriptions and Drugs (Alternate track: in-depth training in the Enrichment and Training modules)
Dinner at The Fields  5:30-ish
TUESDAY 8:30 - 5:00
Morning Sessions
Pocket Tracks, Collection Planning and some new features.
Lunch 12:00 - 1:00
Afternoon Sessions
Behind the scenes tour!
Nutrition 
Cool API uses, Reports and Communication in Tracks
(Alternate track: in-depth training in diet configuration for those interested in implementing diets, feeding, and nutrition configuration: Heidi Bissell,  nutritionist at Busch Gardens, will be available for consulting and discussion at this time. Bring your questions - this will be a great opportunity to create a plan for implementing Tracks nutrition features at your institution.)
If you know you are interested in participating in one of the alternate tracks, which are straight up training sessions, please let us know so we can be best prepared. You are certainly welcome to make that decision at the last minute.
In addition, we plan to have many group discussions this year. Here are the topics so you can come prepared with your ideas and questions:
Ideas for setting up welfare assessment protocols.

How you are incorporating welfare tracking at your facility.

Ideas for getting great data from your users/using Tracks to help with user management.

How to make Tracks data useful for the next record keeper/curator/lab tech/etc.

Going paperless, archiving data in Tracks, what works, what's worth it, what's not

How are you using Tracks to help in preparing for accreditation

How can you use the observations module to go beyond body condition scoring?

How you plan to implement prescription compliance; your challenges and ideas.

How you want to use Pocket Tracks (if only it would do what you needed)

Ideas for implementing Pocket Tracks and the roadblocks you've encountered.

Needs and uses for collection planning.

Getting started with/taking advantage of the checkout app

Stumbling blocks or success with nutrition
Of course, plan to set up an Individual Support Session. Answering your questions is always a priority. So, we're offering personal training/support sessions on Tracks in conjunction with the conference again. You can schedule one with us on Sunday before the conference starts, or Monday/Tuesday before or after the sessions. We will do our best to accommodate everyone. If you're interested, contact us to schedule your block of time.
LODGING
We're planning a pedestrian-friendly event. If you won't have a vehicle, we encourage you to consider staying at the USC Hotel, which is walking distance to the California Science Center. This hotel is holding some rooms for our event at a discounted rate for midwinter ($209). Do get your reservation early if you are interested in staying here! 
Book a room by phone or email. Call the USC Hotel directly at 213.748.4141 and mention that you are with the Tracks conference. You can email our hotel representative if you want at yarelilo@usc.edu and mention that you are with the Tracks group. 
If you have problems getting a room booked, just let us know!
By the way, the hotel is in the process of changing its name, dropping its Raddison affiliation. So if you Google the location, it will still come up as the Radisson Hotel Los Angeles Midtown at USC.